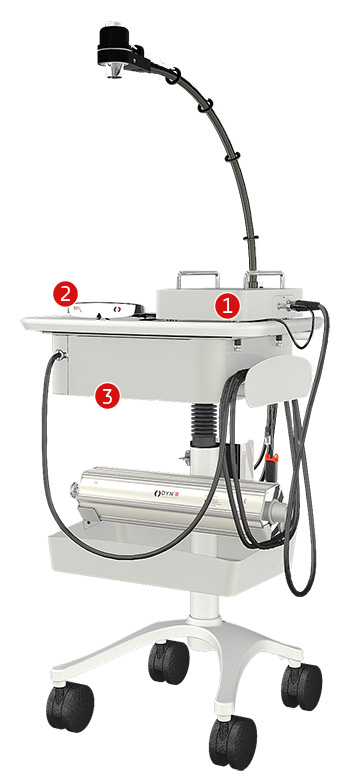 1SDX® Module 3.0
Features reinforced cable connections and integrated video glasses connection for improved workflow efficiency.
2Video Glasses
Connect directly to the SDX® Module 3.0 and main power source for improved ease of use.
3SDX® Trolley 3.0
The new trolley design features a single connect combined power and data cable to enhance workflow efficiences between multiple simulation and treatment modalities.
SDX® Software
New user friendly interface with touch screen design for enhanced usability.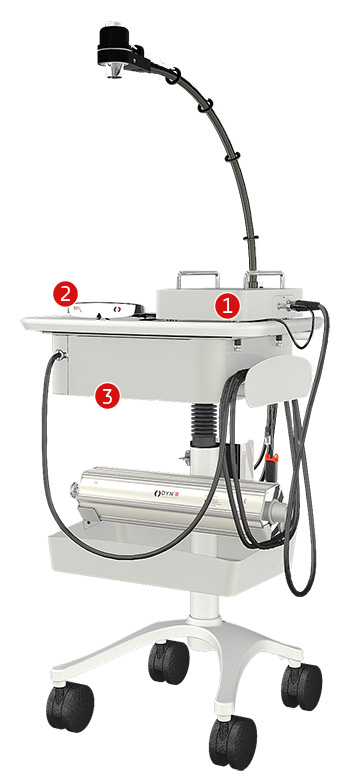 The SDX System is a class IIb medical device manufactured by DYN'R. The conformity assessment was carried out by GMED / LNE 0459. This medical device is a regulatory health product that bears, under this regulation, the CE marking.
Gating Modules (Optional)
The SDX® System can be used in manual or synchronized mode with the use of optional Gating Modules.


Imaging
4D-CT reconstructions are often degraded due to poor abdominal motion. Compared with external systems, the respiratory signal obtained with the SDX® spirometer provides a high quality volumetric amplitude that is ideal for managing Free Breathing 4D-CT. The Gating Module links the SDX® to the scanner, driving 4D-CT acquisition. The Gating Module receives the two signals, X-Ray on and X-Ray off, defining the acquisition period. The resulting high quality respiratory data allows for superior 4D-CT reconstructions.
Gating Module available for :
Siemens SOMATOM®

Treatment
The Gating Module continuously monitors the patient's breathing and adjusts for motion in real time, delivering the dose only when the patient is in the breath hold zone. If the patient's breath hold moves beyond the defined breath hold zone, the Gating Module signals the equipment to immediately pause the radiation beam; when the patient moves back into the breath hold zone, the equipment is triggered to resume the radiation. The Gating Module allows the patient to return to the defined breath hold zone as many times as required to complete the daily radiation plan.
Gating Modules available for :
Varian TrueBeam® (available until next major TrueBeam release)
Varian C-Series (available until next major TrueBeam release)
Varian Probeam®
IBA Proteus®PLUS
IBA Proteus®ONE
MEVION S250i™
SDX® System Clinical workflow setup